11 Things Every Single Girl Should Buy If Fall Is Entirely Her Season
To be 100% with you, my favorite season is winter. I love fall, I loooooove fall, but it's never quite cold enough for my liking. There's always some weird possibility for it to be sticky and muggy again for no reason like it is right now as I write this so fall, I love you, but I find you fickle. Regardless, it's an amazing season, full of opportunity for doing fun things like picking fruit and attending festivals where you're guaranteed to not sweat. Obviously there's the whole Halloween component which is hands down my favorite part of fall, but for the purposes of this post I will be focusing on non-spooky essentials because if I didn't we'd be here all day.
So below, my favorite finds for fully feeling fall. Best enjoyed with a cup of tea but I'm not picky.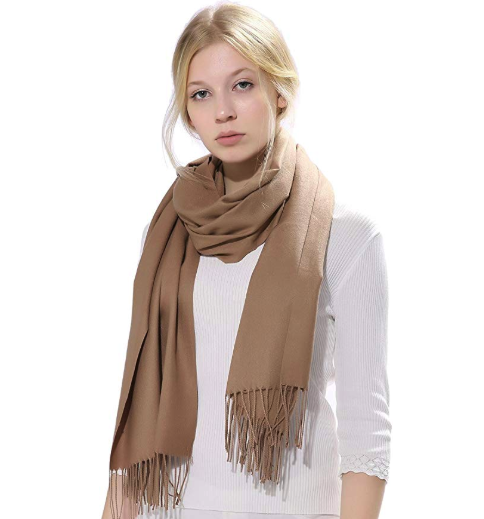 No one cries when they leave it in a Lyft.
The Whatever Scarf: Scarves are inarguably one of the best things about the weather changing from sweltering to entirely tolerable. And while I do enjoy a good luxury scarf, I'm perpetually concerned that I'm spilling on it, forgetting it, dragging it in muck, etc. Therefore, I enjoy a good cheap scarf that gets the job done, looks reasonably cute, and doesn't devastate me when unfortunate events occur. I have this scarf in the color shown above and in gray. It's $11, feel free to experiment with color. It's got an oversized blankety feel so that we can all channel our inner Lenny Kravitz, and stay entirely warm no matter the commute/airplane/subway platform we find ourselves on.
The Best Tea On The Market: This is the best tea I have ever tasted. Period. I was never one for chai flavors, they were never my cup of…yeah you see where I'm going, but something about this blend with vanilla that is just the right amount of sweet + spicy is heavenly and I'm surprised there are not entire Instagrams dedicated to it. Perhaps I'll start one. It is calorie-less dessert in a cup and it's how I intend to spend the rest of this calendar year. This link is for a 3-pack at an excellent price that should set you up nicely for the foreseeable future.
This is olfactory magic and I'm here for it.
Thymes Frasier Fir Candle: I've spoken before about my need for scented flames in my home, but I'm going to go ahead and list this one here for permanent reference. This is the best candle on the market. Yes I said it. There is nothing more potent at this price point and I don't know about you but when I cannot smell my lit candle I get very angry and grumble about wasted money like a grandma. If you like the smell of Christmas trees, if you walk more slowly when you pass a stand of them on the sidewalk, this is the candle for you. It has a woodsy sweetness to it that is so pleasant and welcome throughout fall and winter. I've never encountered another $30 candle that was this worth it. So much so in fact that I'll be investing in a much larger 3-wick version this year, too. I must advise you that if you have any interest in this candle at all, get it prior to Thanksgiving—stock tends to run very, very low once people start getting into the spirit and whatnot.
Be the crazy person, it's fine.
Disinfecting Wipes: Fall is just another way to say "almost flu season." I literally never leave home without a package of these in my bag. Between the subway, doorknobs, my bowling league, and human sneezes in the wild, I need to know I can disinfect my person and my surroundings at all times. Also, sometimes things get sticky! Either I or a parent within an earshot of me will need a wipe at the most inopportune moment and it's nice to be someone's hero every now and then. Yes, at some point or another this year we will all likely contract a cold. That doesn't mean we have to contract seven of them. Stay healthy out there.
Airplane Window Shelf: This has nothing to do with fall whatsoever I just need you to see how cool it is. This shelf rests inside your airplane window and gives you a massively convenient ledge for your phone and Diet Coke! Your tray table (after you've deloused it with the wipes mentioned above) is then totally free for your laptop, book, tablet, or other item that makes flying less of a pain in the ass for you. This shelf folds completely flat and takes up very little bag space. I am an aisle seat girl but if you prefer the window, or know someone who does, this is a hot gift this year, I'm telling you.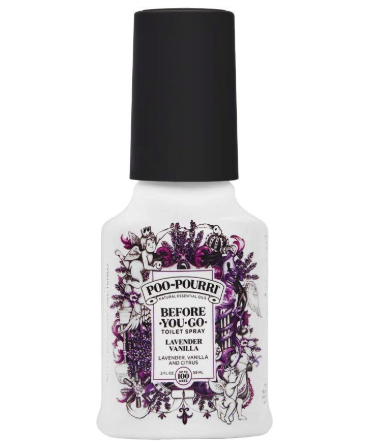 Poo-Pourri: As we round the corner of cuddle season, it might be prudent to keep a bottle of this actual magic on the back of the toilet, just sayin.' Logistically speaking, we singles are predominantly dwelling in small apartments. That means not a lot of real estate between you, the new dude you're "spending time with," and the bathroom. Yes, this stuff actually works. Get the travel size while you're at it, it lives in my purse and travel bag and I've never regretted either decision.
Unbreakable Wine Glasses: While I absolutely love my $60 Zalto wine glass and consider it the Cadillac of glassware, it's more fragile than a Tinder dude's ego. This fall, if you've taken stock of your stemware and noticed that a few pieces met their end on a rosé rooftop over the summer, restock with something that's made to withstand some actual drinking. These are sturdy vessels. These are vessels for real women. These are dishwasher safe, don't-even-talk-to-me-about-hand-drying pieces of glassware that will get you from here to the day after Valentine's Day with your wine right where you want it—close at hand. Also, if you're an actual wine person and you're stressed about the lack of stem causing the wine to warm in your hand, dude it's fall, it's cooler now. Things will be fine.
I guess we're doing this.
The Okay Let's Try This Coat: To be honest, I thought these teddy bear shits were going to have a very limited shelf life. However, as often happens, I was wrong. These foofy coats are apparently here to stay, but if you're concerned that they might not be entirely your style, while also harboring sincere curiosity about their level of comfort and cozy, start with one that's $32. I'm personally a fan of this khaki color, because I want to look like an actual stuffed animal, but there are plenty to choose from. It's this year's Amazon Mom Coat and let's not fight it.
Satin Pillowcases: Now that there's no danger of dying from sweating to death in our sleep, I think it's safe to have satin pillowcases now. Note that these are not a trend or new, they've been around forever protecting the hairstyles of women who don't want to ruin things but also don't want to have to wear a bonnet to bed. I think they've recently become more popular because there's also this rumor that they're good for your skin, too. I will try anything that prevents premature or even entirely on-time aging, so I'm willing to give these a try, especially at less than $10 for a pair. There are definitely more luxe versions you can buy, but if you want to take 'em for a test sleep, this is the way to go. Tons of colors available, too.
The Hand Warmer Mug: I was always going to end up somebody's hippie aunt in a tiny house, why not start now? I was a little surprised to find something that looked so Etsy on Amazon, but here it is! This mug is designed to warm your hands while you enjoy your spiked cider I mean tea. They come in endless colors and you can also choose a mug for right or left hands! If you're like me and have horrifying circulation, this will save you a lot of uncomfortable phalanges this fall.
And I do have a pair with cats on them, don't worry.
Cozy Legwear: We were never going to make it to the end of a post about fall without a sock moment. Fall is nothing if not the opportunity to wear all manner of ridiculous items about the ankles and calves. I like a good cable knit option, because it's just as suited to couch lounging as it is to leaving the house, but please feel free to purchase more festive options that no one ever needs to see you wearing. This is your season, do as you like.
*Affiliate links earning author potential commissions are used in the post above.