8 Things Every Single Girl Should Buy If She Works From Home
When I made the change from leaving the house every day to earning a living from a table roughly fifteen feet from my bed, I noticed several changes. First, I had little to no need for a "work bag," and all of those clever lunch transporting devices began to collect dust. Further, certain new needs began to arise that I was not anticipating. Despite the fact that I spent two hours writing this blog post and lost the entire thing due to a Squarespace glitch, I'd still like to give my readers a leg up on working from home comfortably and efficiently. Sometimes literally. You'll see what I mean.
The photo above is the view of the sunrise that I get to enjoy every morning for the first hour or so of my workday, which begins, by choice, at 6:30am. Don't just live your best life, decide what it looks like for yourself, too.
My personal style is "clothed."
The Uniform Top: Half the reason I started working from home was to avoid the quite frankly obnoxious task of pulling a lewk every day. When I work from home, I uniformize myself, typically wearing literally the same thing for days at a time. It saves mental anguish, time, and honestly money—I've found that I'm much less prone to shopping for clothing and shoes when fewer people see them everyday. Thus, I collect comfortable, affordable basics such as the long-sleeve tee you see here. I am team sleeves, and I miss fall. If you enjoy seeing your arms though, there are tons of options for good basics on Amazon. Find the uniform, live the uniform.
File under: actually great.
Go To Jeans: Similarly to the uniform moment above, I need reliable, comfortable jeans in order to be productive. I can't be foofing around in pajama pants all day long, that's not professional. So I use jeans to make myself feel like I put on real clothes. When I first heard of Sofia Vergara's denim line for Wal-Mart, I assumed it was the same level of quality I typically assign to celebrity products, which is to say not much. With these jeans, I was delightfully wrong. So much stretch, so much comfort, so little money required to purchase. And a very inclusive size range that I appreciate very much. These are the best under $30 jeans I've ever owned and you may quote me on that. I own three pairs, and I'm not done. Make sure though that you have the Rakuten plugin on your browser, because Wal-Mart tends to have pretty decent cash back percentages. Also, I have in no way partnered with Wal-Mart to bring you this very important denim message, though I would certainly like to.
The Mat: I'm not advocating for working out at home like some peppy trainer with an optimism imbalance. What I am suggesting is that when we work from home, we sit too much. I'm a big fan of at least stretching once per day to de-pretzel ourselves after a long day of hunching over laptops like bridge trolls, and I like this mat because it's very basic and it keeps my knees from hurting on the hardwood floor. If you don't know how to stretch please don't be embarrassed of that truth because I didn't either. Hop into YouTube and find a video that doesn't annoy you. That's my method.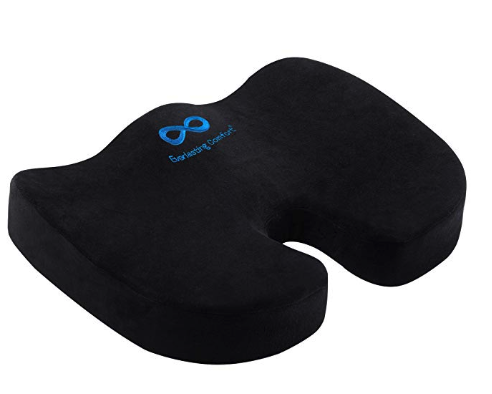 The Trucker Cushion: Somewhere around a year of working from home, my ass started hurting. And not just my ass, like the side ass down through the back of my thigh. It was an unignorable pain, and I decided to buy one of those cushions truck drivers sit on because if anyone knows how to sit, it's those dudes. It helped with the pain immensely, though working out has also been a huge help there, too. Also it's just fun to sit on something squishy and comfy all day. This is 1000% a more affordable and less ugly alternative to buying a proper office chair, just FYI.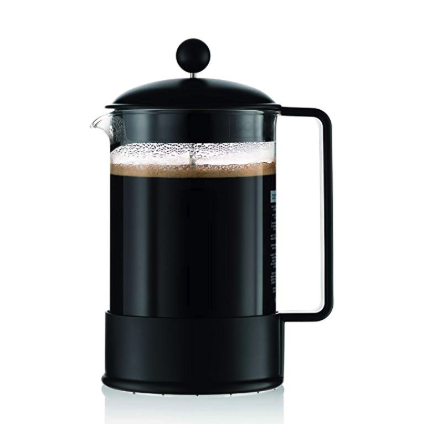 DIY Caffeine: We really do spend too much damned money on coffee you guys. In my mind, there is no greater waste if money than buying prepared coffee from an establishment when you have a perfectly good kitchen lying around. I am a committed iced coffee all year person, and I use a very affordable french press that I prep every evening and leave to chill in the fridge all night. You just put coffee in it, top with hot water from your kettle, let sit on the counter awhile, then plunge the plungy thing down, and place in fridge. That way when I wake up, I have delicious, delicious cold coffee ready and waiting for me because waiting isn't something I like to associate with coffee.
Smarter Sips: You could definitely buy one of those comically large jugs with handles that are meant to make sure we drink more water, but since I can't take those things seriously, I use tumblers with straws. I keep one full of water in the fridge at all times, and I also use one for my iced coffee in the morning. I find that I actually really use them, maybe that's because they're tricking me into thinking I purchased these beverages at a fun place due to the presence of a straw, but I don't really care about the reason. They're both fun and functional and I stay hydrated. Keep one in your car or work bag if you'd like to help the environment or whatever.
Nice Smells: I am a huge fan of home scents and am endlessly jealous of people whose homes seem to smell like laundry at all times. Between the cat and my cooking mishaps, things can get questionable around here. At the same time, I'm not a fan of spending $100 on a candle. For me, Thymes candles are a good compromise between efficacy and affordability. I change my scents with the seasons, and am completely addicted to the brand's Frasier Fir scent in winter (I literally hoard them, if they're out of stock you may blame me). For now though, I'm trying Olive Leaf, because while I don't quite know what that smells like, I can promise you it's better than burnt kale and cat leavings.
Several Feet Of Freedom: Kind of a weird one, but hear me out. I don't like electrical outlets to determine where I conduct business. I like to craft the perfect professional setup for myself, and an extension cord helps me do that. The contractors of this building did not consult with me on the ideal work from home setup I'm sorry to say, so I use extension cords to maintain my freedom. This one is far more attractive than the 27 or so orange versions your dad has in his garage so there won't be too much disturbance to your overall aesthetic. Pretty cute for being under $10, no?
*I earn a small commission from some of the links above, but also finding cool shit on Amazon is one of my favorite hobbies. Thank you for supporting your independent writer and creator, she appreciates it.