9 Things Every Single Girl Should Buy If She Hates Summer
I know we're all getting super cute "back to school" emails as if school is something grown ups are still using as a calendar marker, but the truth is that it's August, our air conditioners will be ripping chasms in our electric bills until mid-October, and we've still got a long way to go. Especially if we hate summer, which I do. That's why I've decided to share my thoughts on a few items that make summertime suck less, particularly for those of us flying solo through this hellseason of humidity, heat, sweat, bugs, and everyone's photos of travel to beachy places while were working to earn a living. We're going to make it, I promise you.

Berry Keeper. I love summer berries, they're delicious, versatile, and one of the few fruits my low carb research has approved. But I am one human being, and the berries are many. I would prefer that they stay fresh, lest I have to shovel a handful of raspberries that were supposed to be my breakfast with yogurt for the week into my face on Sunday night as dinner because I can tell we don't have very much time left together before they form cobwebs. These freshness-extending containers are extremely well-rated and guaranteed to make your berries last longer than the length of a Tarantino movie. Buy it on Amazon.
Air Pants. I hate shorts. What even are shorts? Shorts are pants that quit. In summer, I don't want to give up on pants, but I also don't want to die, so air pants are my solution. These are VERY light and breezy pants that have a wide (but not at all tight) waistband at the top. They are akin to wearing clothes without wearing clothes. I am always on the lookout for clothing that doesn't actually touch my body and these pants are perhaps my favorite example of such. They're the most comfortable thing I own and if I'm in my own home, they are what I'm wearing. The are the best way I've ever spent $17 (some of the other colors are even cheaper), and I literally bought another pair while writing this post because I remembered how valuable their presence is to me. Buy them on Amazon.
Get it together, will you please.
Beach Backpack: I love going to the beach—in theory. By the time I realize everything I need to schlep out there in order to have a good time and not die, I'm hauling half my home outdoors in a Radio Flyer. Get a beach backpack, one that is a normal backpack on top, and a cooler on the bottom. I know we all want to use those painfully adorable round straw satchels, but they don't do shit. Get a strong, sturdy bag that will keep your wine I mean water cold, your snacks fresh, and your towels dry—all on your back in one convenient vessel. This keeps your hands free to carry your umbrella and you still have one hand left to pet dogs. Bonus: I use mine for grocery shopping, too and it's way more comfortable in terms of schlepping the snap peas and ricotta home from Trader Joe's. Buy it on Amazon.
Critter Catcher. I can't really talk about bugs and other varmints very much as this topic is quite triggering for me. For now I will say: This device allows you to safely, and at a distance, collect the offending arachnid and return it to the outdoors where it can return to its happy work of eating the other bugs. Buy it on Amazon.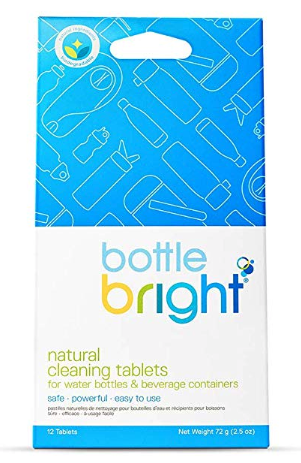 Water Bottle Cleaner. You know what's not cute? Dehydration. You know what else is not cute? Gross ass water bottles. Right about now that water bottle you've been commuting with is smelling questionable at best. These things are eight bucks and apparently they work really, really well at de-funking your water bottle. Don't toss the S'well because your dishwasher didn't help. Save money and just pop one of these little guys in there first. Then drink lots of water because it's the DEVIL OUTSIDE. Buy it on Amazon.
Wipes To Go. I don't need to tell you how gross summer can get when you leave the house, we're all adults here. I recently invested in a huge stock of wipes that come in really purse-able packets for cleansing various surfaces, including my actual myself, while on the go. They have never not come in handy. We think it's just moms who are always prepared for random moments that involve something sticky, but us single gals know what the fuck is up, too. From subway poles to patio tables to my own salt-encrusted face after a dip in the ocean (it happened), I will not leave home during summer without a packet of these in my bag. And I'm a better, more comfortable person for it. Buy them on Amazon.

Watermelon Face Spray. I don't advocate for buying $41 face spray lightly, I want you to know that. I bought this stuff on the 13th of March of this year. Today is August 3rd. I shpritz it on my face every single morning before my serum and moisturizer and I still have 1/3 of a bottle left. I bought it because I like watermelon scented shit but I will buy it again because it's incredibly refreshing and an excellent start to your skincare every summer morning. I've been known to run into the bathroom and spray my face any time I'm in a crap mood. It helps. Buy it on Amazon.
My ban.do Tumbler: There are many, many times during summer, my least favorite season and a source of much anxiety for me, that I just need a little happy. Last summer, I bought this glorious vessel in order to both reduce my plastic consumption and stare are something pretty all day. I no longer have a commute where stopping for coffee is a regular thing, but instead I'm now using this tumbler as my doubled walled, condensation-free delivery system for the iced coffee I consume at my work from home desk all day long. Use my link to ban.do and you'll get $10 off your order which is very nice. ban.do. (Search for "tumbler.")
Thigh-Rubby Stuff: Yes, everyone is buying Megababe's thigh chafe stick and that's lovely. But if you want to spend less money and still have thighs that don't sting, this is the stuff that I use. This is much smaller in real life than you think it's going to be. It's not the size of a deodorant stick, it's about the size of a kiwi, so it's really easy to keep in your bag—any bag. I think everyone has a favorite way that they avoid hurt inner thigh areas, mine is actually just wearing pants, but sometimes naked thighs are inevitable and I'd prefer that mine don't burn with hellfire. This is your ten buck, highly portable solution for summer's most annoying side effect. Buy it on Amazon.
I earn affiliate commissions from purchases made via the links above. Thank you for supporting an independent writer and creator.