6 Reasons I'll Miss Boerum Hill
As I wake up (at sunrise, FML) on my last Sunday morning in lovely tree-lined Boerum Hill, I wanted to take time to reflect on what I've loved about six years here, rather than just kvetch about my shitty apartment. I chose Boerum Hill when I moved to New York because it was Brooklyn but not Williamsburg and literally all the subways come here. It's been a good run, but those seeking newly built apartments must make for Bed Stuy pastures. So farewell, sweet neighborhood, may your local businesses be plentiful, and your package thieves few.
My Polling Place: I frikkin love my polling place. It is an elementary school, in the cafeteria, and I've voted during breakfast hours while listening to tiny humans comment on my hair. The lines are never bad (I vote early in the AM), and everyone is really, really nice. Obviously I'll be changing my polling place when I move, but I'll never forget how pleasant this experience was, or that I voted for my first female candidate for President there. Now that I think about it, maybe I do need some different voting karma…
Walking Literally Everywhere: Another huge reason I moved here was that I didn't really know that many people, and I was big on self-sufficiency. In this area I can walk to literally anything I need including the veterinarian and the DMV. If I need it, if I even want it, my feet can get me there. I'll miss that.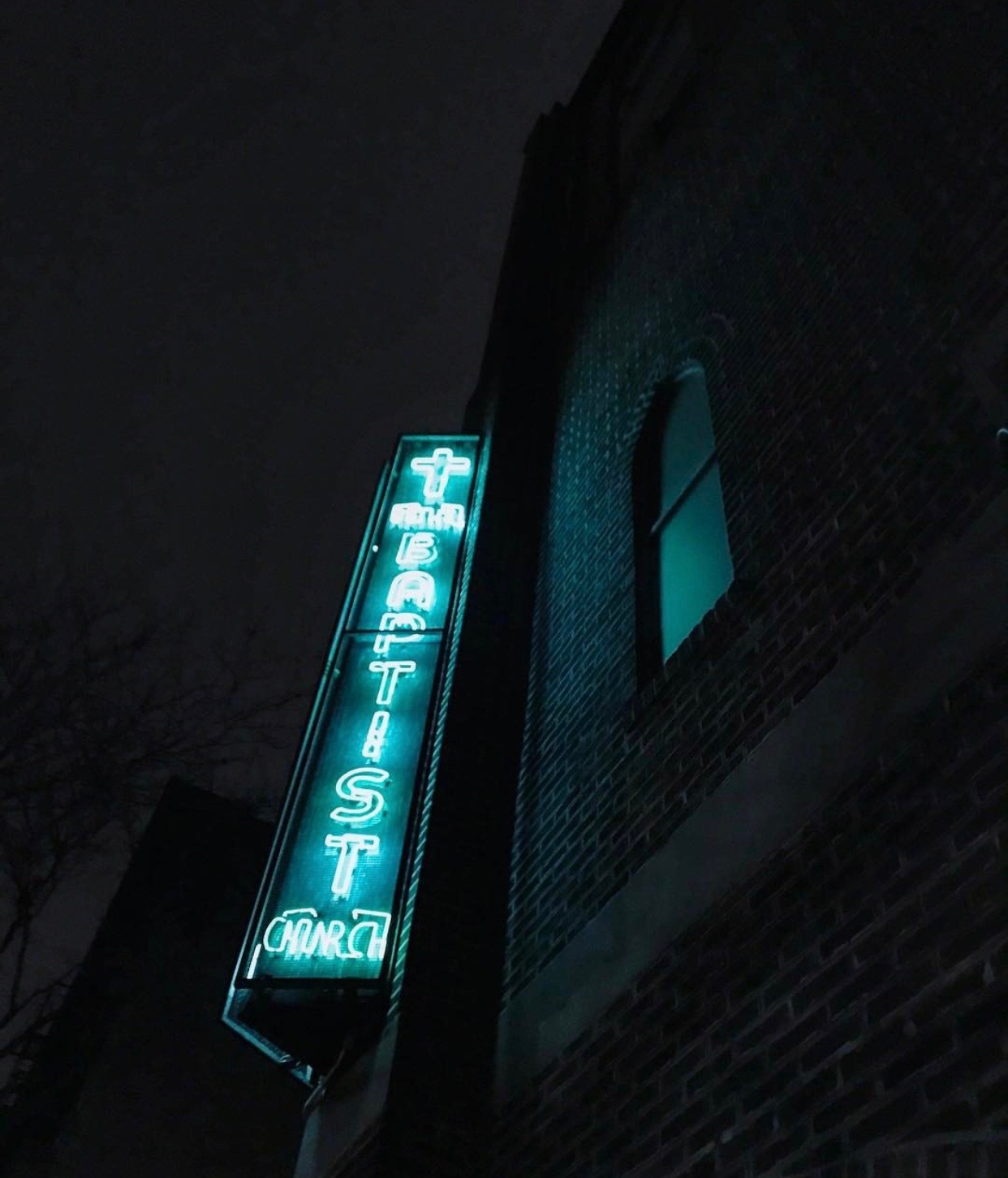 Neon Church Sign: I currently live next door to a Baptist church with a blue neon sign that reminds me of the scene in Romeo & Juliet where Leonardo DiCaprio visits a seemingly dead Claire Danes. It is beautiful, and conveniently makes a great landmark for cabs and Lyft drivers. I would really like a print of it for my wall.
Pretty Walks: This neighborhood is beautiful and it always surprises me how contained that beauty is. Just a block over and I'm wading through street garbage but Boerum Hill is pristine and lovely. There's always something blooming and there's also a giant Doberman who keeps watch on my street outside his home and he is a giant squishy harmless softy.
Ethan Hawke: I'm pretty sure Ethan Hawke lives on my street. I can't count the number of times I've seen him out and about around here and I've definitely seen his bike complete with child-wheelbarrow tethered to a tree. My final sighting was last week, when he was outside the overpriced coffee shop on my block in full period piece costume. I have no idea what he was filming but I look forward to finding out. He is Hall of Fame 90s hotness and you know it.
Reliable Date Spots: My neighborhood is not short on convenient and non-committal date locations and I shall miss that. At a certain point I gave up on exerting effort in dating and required all of my dates to meet me at locations I could walk to. I do not regret this decision. I have no idea where the good meeting points are in Bed Stuy but I'm hoping my new zip code will reveal some gems.
I'm sure there are more, but my home is in boxes, my life in disarray, and my creative juices stagnant. In less than one week I will be in a new space, a new neighborhood, and a new frame of mind. Until then, thank you Boerum Hill, for being six years my port in the storm.